Custom Membership Management Solution
When working on a project at the scale of pca.org, Monarch Digital goes way beyond simply developing a website. We learn our customer's business model and incorporate almost every function in a web application embodied in the website. The end result is that an organization like Porsche Club of America can manage their membership and entire club online. Additionally, this site:
Provides an easy interface to add and search the popular online classified ads on the site.
Enables members access to technical experts in the technical Q & A section.
Presents the most popular features to members on a member dashboard, based upon their club interests.
Image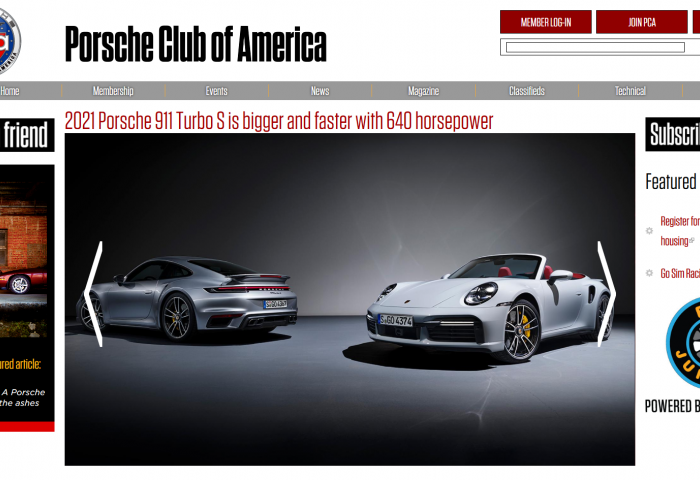 Improving from the previous administrative process, a LAN-based batch membership system, Monarch used its Drupal membership entity module to allow new visitors to join the club, to enable existing members to renew and to give the national headquarters personnel the ability to manage memberships online. With this new site, the PCA provides better member management to the club while avoiding the licensing fees of IMIS, their previous proprietary membership system.
As soon as a member logs into the website, they are presented with their own personalized dashboard containing relevant information from the club.
Regular members see their site posts, their classified ads, their technical questions (and answers).
Members can place classified ads, post events, submit technical questions and even print a temporary membership card.
Local club leadership can also view and download real-time membership reports for their regions.
National HQ personnel can choose from national reports and rosters for the entire club along with searching the membership database for individual member records.
Monarch worked with the leadership of their printed magazine, Panorama, to design a responsive site that closely complements the layout of the magazine. In addition, Monarch implemented a clear, concise system to create and manage members' classified ads online and for the printed magazine.
Another advantage of being a PCA member is access to technical experts across North America who can address their technical questions. Monarch designed and built a new system allowing members to:
Search for similar questions with drill-down, faceted search.
Submit new technical questions to the appropriate expert.
Notify the appropriate technical expert that a new technical question has been posted in their area of expertise.
Monarch cleansed and imported membership information, previous website content and a great deal of additional information into the site, allowing it to be completely operational from day one.
The PCA site is the latest in a series of membership sites that Monarch has been privileged to develop. Through a collaborative development process and in-house created membership management modules, Monarch Digital is proud to help the Porsche Club of America take their website to the next level.